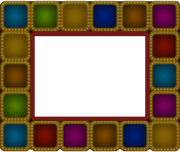 Welcome to the Press Your Luck Wikia
[
]
Today and everyday, you will see articles about the show where everyday, three players go after BIG BUCKS! But we'll have to avoid the Whammy, as you learn about this, the most exciting game of our lives, which only one player will win. From the Fandom pages on the internet, it's time to PRESS YOUR LUCK!
This wiki was made so people will know more about this game show from 1983-1986, Press Your Luck!
What I think of Press Your Luck
[
]
Press Your Luck is so awesome! Buzzr currently airs it everyday and could also be seen on USA Network and GSN. Speaking of GSN, they once themselves had a short-lived remake of PYL called Whammy! The All-New Press Your Luck (later shortened as Whammy! in season 2) which ran in 2002 until 2003. And now there's a new version of Press Your Luck currently airing every summer on ABC. Speaking of the summer, there was also a version of Press Your Luck that was part of a seven episode series called Gameshow Marathon (stylized as Game$how Marathon) in 2006.
Photos and videos are a great way to add visuals to your wiki. Find videos about your topic by exploring Wikia's Video Library.